This is our first review with
The Old Schoolhouse Review Crew
! I am very excited and thankful for the opportunity to have been able to review
Lightning Lit & Comp for Grade 7 Hewitt Homeschooling Resources
.
I do want to point out that these books are not to be "stuffed" into a Grade 7 "box". They can be used by 6th graders looking for a challenge, or an 8th grader needing more time to master their composition skills.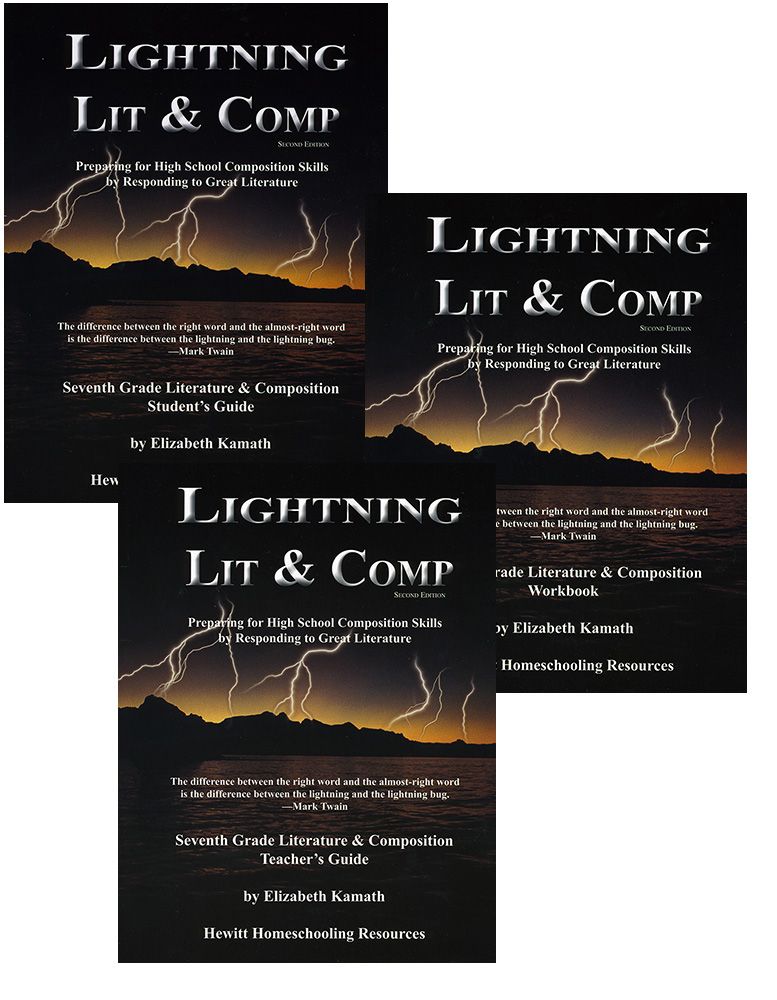 We received 3 books to review, the
Student's Guide
, the
Teacher's Guide
, and the
Student's Workbook
written by Elizabeth Kamath. The cost is $20 per book. You will have to purchase, borrow from someone, or take out from the library the stories needed to complete the work required.
A list of the stories you will need, which are available, and can be purchased through Hewitt Homeschooling Resources are,
The Adventures of Tom Sawyer
($4.99),
Alice's Adventures in Wonderland
($4.99),
Helen Keller
($4.95),
All Creatures Great and Small
($7.99),
Stories and Poems for Intelligent Children
($19.00).

You can choose to purchase the 2 guide books, workbook and all of the stories in one
complete pack

for $91.73

.
You will need to purchase another workbook separately for any students up and coming or if you are using this course with more than 1 child at the same time. The other two books, Teacher's Guide and Student Guide, can be used over and over again as well as the stories. This is worth the investment. All material is available through the
Hewitt Homeschooling website
.
The Teacher's Guide provides a weekly planning schedule (awesome!), all answers for questions in Student guide, and the Student Workbook.
The Student's Guide provides the meat of the lesson. A peak at the authors, the literary lessons, a mini-lesson, and writing exercises.
The Student's Workbook is what your child will be working out of to complete the necessary assignments.
The course starts off with reading Rikki-Tikki-Tavi which is included in the book Stories and Poems for Intelligent Children. For the review I purchased an unabridged copy of Rudyard Kipling's The Jungle Book and read the chapter on Rikki-Tikki. I thought this was a gentle and easy story to use with children who may be unfamiliar with a plot line or how Lightning Lit & Comp will work in general. The story is short and was not overwhelming.
The activities are thorough and easy to understand.
You and your child can read together, or they can read by themselves their lessons from the Student's Guide book. The story up for discussion needs to be read before doing any work in the Student Workbook. Once the story is finished your child will then complete all the workbook pages for that particular story. Once the workbook pages are complete they can move on to select a writing assignment of their choice which is given to them in the Student's Guide book.
Some of the activities included, Identifying the Best Opening, Writing a Good Opening, Rewriting in Your Own Words, Writing from Note Cards, crossword puzzles, word searches and much more! They also include a vocabulary section! Yeah! No need to purchase a separate curriculum for that.
I am looking forward to continuing the use of this curriculum for the next school year.
I love the way this material is presented. It is laid out for ease of use for the teacher and student. I like the variety of activities also. The material doesn't seem rushed. I really appreciated this aspect of the curriculum because it made me feel like there were no gaps and we weren't being rushed through each new concept.
There are plenty of writing lesson to keep your kiddo busy, so I would use this and only this as a writing course for your kids. No need to supplement. It's very thorough.
Oh! Lest I forget, I love the fact that children of all ages can enjoy the stories that are listed above. Being an eclectic homeschooler I like to include all of my children in on a particular learning adventure if at all possible. So while they may not be of age to work in the "big" books they can still benefit from being read to and being together.
I am unfamiliar with two of the story selections which are, "
All Creatures Great and Small
and
Stories and Poems for Intelligent Children,
so I cannot comment positively or negatively on these two books as far as content goes and age appropriateness for younger children.
Looking for another opinion on Lightning Lit & Comp Grade 7? Check out what others are saying on the review crew by looking
here
or by clicking on the banner below! You will also find reviews on other Lightning Lit & Comp Grade Levels, so check them out!

As a member of TOS I received Lightning Lit & Comp at no cost to me in exchange for my honest review. The opinions expressed in this post are my own.